Classic CIS Software
Want A Hassle Free Accounting Solution?
For clients who want a proven, server-driven, extensively used, and multi-modular solution to capture all of their business functions, KDI provides customers with the Core Information System (CIS) application.
Every installation of CIS is customized for each client, and backed by KDI's knowledge of Accounting, Business Analysis, Database Management, Project Development and more. The CIS Classic series was developed in Synon for the IBM I Series. It can be hosted on your AS/400 (I series) or ours. KDI staff also provide programming services to help you upgrade your existing software, and find new solutions through custom-built applications. Instead of having several applications–from different vendors–trying to handle all of these functions, and the hassles of getting them to communicate with each other, not to mention the time-waster of data entry duplication, why not consolidate all of your IT-driven business processes into one proven, powerful solution? Click on the features below to see how the CIS software can help your business.
About Core Information System
The Core Information System (CIS) is an integration of the core entities and functions found in most commercial information systems. Modeled using the SYNON (Sterling) CASE tool, the business objects and methods of CIS allow you to customize your system to meet your specific needs, and add value to all of your accounts.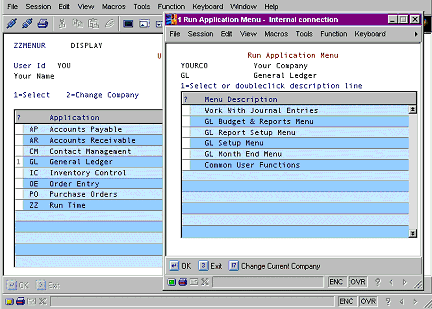 CIS / General Ledger Application Menu
CIS Includes These Modules:
Seven Major Modules
The integrated module is made up of seven major modules plus the Run Time module. Three of the modules store your static information:
Contact Management
Providing one database for all of your leads, customers, suppliers, regulators and competitors. [more]
General Ledger
Providing a multi-company financial database allowing different companies to share the same chart of accounts. [more]
Inventory Control
Providing the attributes and instances of the products and services that your organization consumes and supplies. [more]
From these three modules, the four remaining modules provide a preliminary approach to modeling and controlling the organization's processes:
Order Entry
Orders are easily entered, reviewed, copied and maintained providing quick access to sales tax and order history data. [more]
Purchasing
An extension of the inventory database building on the relationship between manufacturers and suppliers. [more]
Accounts Payable
Cash requirements and management are the focus. [more]
Accounts Receivable
Detailed information works towards keeping non-performing receivables at a minimum. [more]
These four modules build on the initial three modules to provide your staff with an enhanced performance capability in their day-to-day operations.
Features & Benefits
A Multi-Company Model
The complete system was designed to be a multi-company model that can be implemented effectively for a multiple division model. Security is provided, through the Run Time module, for functions within each division, as well as within each application.
Communications Add Value
The Notes and Followup Diary functions in the Contact Management module provide your staff with an efficient means of sending memos to each other, and reminders to themselves. Individually, these on-line communication functions add value to the expertise found in each of your departments. Collectively, they pool your company's knowledge resource base.
Empowering your staff and adding value to your accounts is just the beginning of the benefits you'll gain with CIS.