Purchase Orders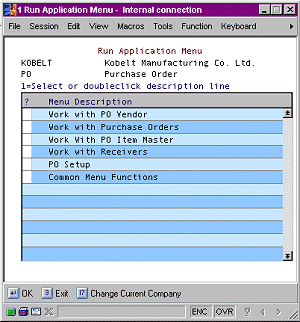 Purchase Order Application Menu
Documentation for Application.

The Right Supplier
The Purchasing database helps your buyers find the right suppliers for the required products and parts, and then helps them negotiate the best deal.

Ordering
Requisitions can be generated and then turned into a Purchase Order to your stock and cost item suppliers.

Order Tracking
As goods are ordered through the system, the Purchase Order status can be updated and tracked by your expeditors.

Multiple Manufacturer And Vendor
Alternate sources are readily available for special orders, comparative pricing or emergency rebuys.

Online Receiving
Receiving tickets can be printed with each item's quality attributes to assist in the receiving and inspection of incoming goods. As goods are received, a record of the transaction is made which facilitates the matching of goods to both the purchase order and the supplier's invoice.

Your Result
Purchase data becomes useful throughout the buying cycle, as your operations, transportation and administration staff are kept up-to-date on what stock is expected and what stock has already arrived. Purchase histories become useful to your buying agents in their relationships with your suppliers.
For more information email us at info@kdi.ca, call toll-free 1.800.661.1755 or call 604.574.7225 today!