Inventory Control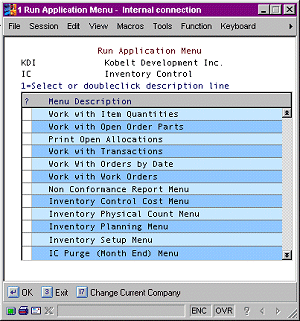 Inventory Control Application Menu
Documentation for Application.

Keeping Track
Similar to the General Ledger module, the Inventory Control module is used for keeping track of inventory items and posting adjustment amounts.

Item Attributes
Includes a bill of materials, listing the parts and process routine of manufactured items. Item costs can be shown as:
Standard Cost
Average Cost
Last Cost
Several other useful attributes can be recorded including:
Dimension
Weight
Drilling

Item Forecast
Detailed item attributes assist your users with their product planning.

Item Summaries
Item transactions and warehouse movement summaries can be kept for as long as required. Transaction codes can be set up and customized to your specific tracking requirements.

Your Result
Sales and purchasing operate efficiently with the benefit of accurate on-hand quantities. Your customer service is enhanced while your inventory levels are kept under control.
For more information email us at info@kdi.ca, call toll-free 1.800.661.1755 or call 604.574.7225 today!