Accounts Receivable
Accounts Receivable Application Menu
Documentation for Application.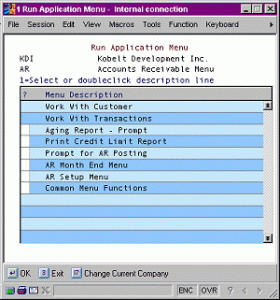 The Link
The Accounts Receivable function provides the link between customers and the General Ledger. The sales, collections, and adjustments are posted through to the General Ledger module.

Collections
The Diary function, from the Contact Management module, helps your credit representatives spend less time maintaining your receivables and more time collecting them.

Credit Limits
Statements, aging and credit limit reports are available to your credit manager on demand. The integration with the Order Entry module keeps your sales staff informed about the credit available to your clients at the point of sale.

Transaction Information
Detailed information works towards keeping non-performing receivables to a minimum. Accounts Receivable transactions have detailed General Ledger account information, detailed transaction distribution and Notes.

Multi-Currency
Outstanding receivables can be displayed in both original and domestic currencies. Exchange rate gains and losses become available as each outstanding receivable is collected.

Your Result
Receivables are kept within a conservative range with transaction details available to all authorized staff. The Notes function helps your Credit staff avoid non-performing receivables, and encourage business with responsible accounts.
For more information email us at info@kdi.ca, call toll-free 1.800.661.1755 or call 604.574.7225 today!