Accounts Payable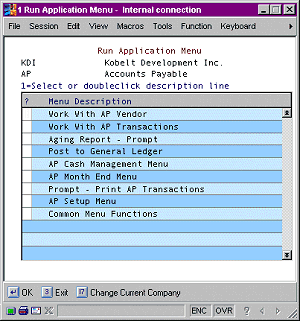 Accounts Payable Application Menu
Documentation for Application.

The Focus
Cash requirements and management are the focus of Accounts Payable.

Vouchers
Standard functions are supported in relation to cheques, and voucher listings by age, size, bank and vendor.

Posting
General Ledger journal entries are generated when transactions are posted to the Accounts Payable system.

Transaction Information
Accounts Payable transactions have detailed General Ledger account information, detailed transaction distribution and Notes.

Review
Account, distribution and payments with multiple bank accounts and multiple currencies can be reviewed on-line.

On-line Cash Requirements
View the cash disbursements on-line and adjust to what needs to be paid. Outstanding cheques can also be reviewed on-line and marked as they clear the bank.

Your Result
The Accounts Payable department is supplied with tools that they are used to working with, in an environment that provides useful information from other company departments. Order transaction data is available on-line to help your staff produce cheques on time, and give their immediate attention to outstanding purchase order and delivery issues.
For more information email us at info@kdi.ca, call toll-free 1.800.661.1755 or call 604.574.7225 today!