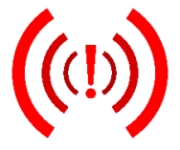 S I R E N - System for Immediate, Real-time Event Notification.
SIREN is a broadcast alert notification system. When you want to rapidly deliver a brief yet important message to people in your organization, SIREN by KDI will take up the call. (See the SIREN website)
SIREN is intended to be used for high priority broadcasts only: not spam, social networking or advertising. The system works anywhere there are active Internet and cellular networks. Those who wish to receive SIREN notifications 'opt in' by providing information to a contact method such as a BlackBerry, cell phone, or email account. As with all the sensitive data KDI is routinely entrusted with, like financial records and student grades, this contact information is kept in the strictest of confidence, never shared, and protected on servers behind our ultra-secure NetSentron firewalls.

Access to SIREN is extremely limited and protected. When you or your designated administrator determines a priority communication must be broadcast, SIREN transmits your brief message to these receivers.
The SIREN application has its own website, here.
Each client has their own customized SIREN website. Even if your computer network is down, as long as you can get onto the website (say through the Web browser on your cell phone), you will be able to access SIREN and send a notification.
Clients can have KDI upload their contact database as an additional service, submit the data themselves, or have their end users self-enter their information. Receivers of each SIREN notification can be limited to one or multiple Groups (eg. management, students in residence, commuting students, mobile workers), or as few as a single individual searched out of the database.
Usage Examples
Campus
SCENARIO ONE: A university has a current police incident–a dangerous and armed individual–on campus. SIREN notifies all students who have provided contact information that they should stay away, either from the entire campus or a specific area. Later, a SIREN message communicates that the situation has been resolved and it is now safe to return.
SCENARIO TWO: Snow forces closure of the campus. SIREN advises all 'opted-in' students that classes are canceled today.
Corporate
SCENARIO ONE: A Hazardous Materials cleanup company receives notification of a priority, extremely poisonous toxic spill on a major highway. SIREN communicates to all company HazMat cleanup crewmembers to stop working on their individual, lower priority jobs and assemble at the site of the major spill for deployment instructions.
SCENARIO TWO: An overnight fire has damaged the offices. An early-morning SIREN message, prior to their leaving for work, lets staff know to expect a difficult day.
Volunteer
SCENARIO ONE: Leadership of a political organization determines that a last-minute 'push' of doorknocking is required to win a specific area on Election Day. A SIREN message directs all available volunteers to move to and concentrate on that area.
SCENARIO TWO: Directors of a blood bank need donations to respond to a disaster. People who have given blood before and also 'opted in' receive a SIREN request for immediately-needed blood donations.
For more information about S I R E N, see the SIREN website or contact KDI toll free at 1.800.661.1755.